Students practice "Deer Ears" on one of our field trips.
Welcome to our The Environmental Stewardship Project's Website!

These pages are currently under construction, but please feel free to look around and see what we are all about! We welcome your comments suggestions.

Check out our expanding calendar with lots of links and pages to help you get out and enjoy nature.

The month of April we will spotlight one of the most important people in the environmental protection movement: Rachel Carson. If you would like to submit an article about Rachel Carson for our Newsletter or website please email us. Also in April we will kick off our interactive educational website.

There are thousands of organizations, each with a specific purpose or goal. There are so many reasons why one should consider becoming part of an organization he or she believes in. Please consider joining our organization, there are many benefits of membership! To join please click on this link!

Help Wanted: We need volunteers to help get this going and growing. Click here for job opps.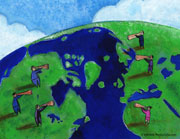 We invite you to visit us or attend an event. Our members are more than happy to answer any questions you may have about the organization and how you can join.